Non – Stop Moving and Grooving with a Show the whole Family will Love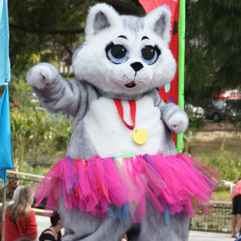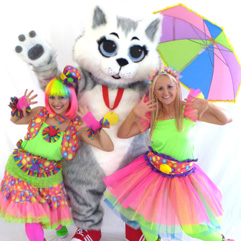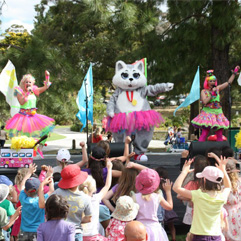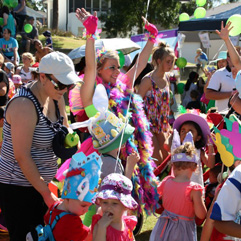 With a sparkling Pixie, Magical funky clown and Scratch the Kool Kat– What more could you ask for in the ultimate interactive children's stage show that will have you Rocking and Bopping all the way to back  Fairy Wishes land.
The Move and Groove Kids Stage Show is an interactive, high energy extravaganza that will have young audiences Moving and Grooving all across the dance floor. With colourful stage props, professional character costumes, cleverly choreographed dance routines and a wide selection of interactive songs that children know and love, The Move and Groove kids show Sydney, will guarantee to add a touch of magic and excitement to your next festival, school visit, corporate fun day, Shopping Centre, Promotion or children's event.–
The Move and Groove Kids Stage Show is developed by University trained Early Childhood Teachers with qualifications in the performing Arts including Dance, Music and Drama. During the Show, young children and families are encouraged to embark on a musical adventure and participate in lots of Singing, Dancing, Rhyming, Shaking, Wiggling, Moving and Grooving to strengthen their gross motor skills whilst having lots of fun!
With the help of Scratch the Cool Kat, Lulu The Funky Clown and Trixie The Disco Dancing Pixie, audiences will revisit a wide selection of fun and up-tempo versions of childhood classic such as The Chicken Dance, Hokey Pokey, Hot Potato, The Wheels on The Bus, Old MacDonald Had a Farm, Twinkle Little Star, Baa Baa Black Sheep, Head Shoulder Knees and Toes and many more (with a few funky and modern surprises at the end). The show is sung live with amazing Vocals and clever dance routines which guarantee audience participation from children and families of all ages.
So put on your on your dancing boots and get ready for non-stop High Energy Fun which will have you Moving and Grooving all across the Dance floor!
The Move and Groove Kids Show
 Contact The Move and Groove kids show today for all your children's show and kids entertainment requirements