Load of Bunny Hopping Fun for the Whole Family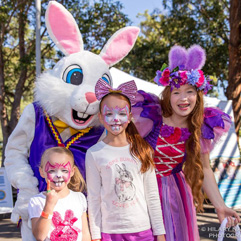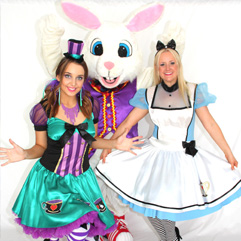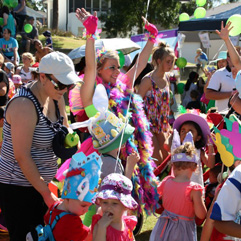 Move and Groove Easter Dance Party Show
Fairy Wishes Children's Parties and Corporate Events are delighted to present the Move and Groove Easter Dance Party Show which is an interactive, musical extravaganza that will have you Hopping and Bouncing all across the dance floor. The show is sung live, includes lot of fun props, encourages audience participation and  will guarantee to add a touch of magic and excitement to your next festival, Easter Hat Parade, school visit, corporate fun day, Shopping Centre, Promotion or children's event.–
With the help of Alice in Wonderland, The Mad Hatter-ess and the one and only Easter Bunny, Audiences will revisit a wide selection of fun and up-tempo versions of childhood classic such as The Chicken Dance, Hokey Pokey, Hot Potato, Bunny Hop and many more.
The Move and Groove Easter Dance Party Show is developed by University trained Early Childhood Teachers with qualifications in the performing Arts including Dance, Music and Drama. During the Show, young children and families are encouraged to embark on a musical adventure and participate in lots of Singing, Dancing, Rhyming, Shaking, Wiggling, Moving and Grooving to strengthen their gross motor skills whilst having lots of fun.
Why not include a special Meet and Greet with our delightful Easter Bunny after the show, which is perfect for photo opportunities and assisting with a magical Ester Egg hunt or Hat Parade?
Fairy Wishes Childrens stage shows are of the Highest Quality and are loved by children and families of all ages. We have performed all across Sydney with many satisfied and regular corporate clients that know they can trust the high quality of entertainment we provide.
Now is everyone ready to see the Easter Bunny? I said is everyone ready to see the Easter Bunny?
Well jump up on your feet because its time for the Move and Groove Easter Dance Party Show
Move and Groove Easter Dance Party Show
 Contact Move and Groove Easter Dance Party Show for all your children's show and kids entertainment requirements