Childrens Party Venue Pricing and Inclusions: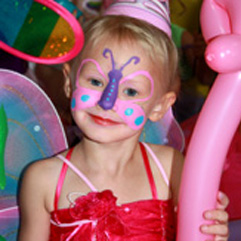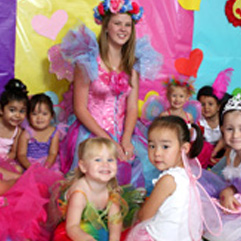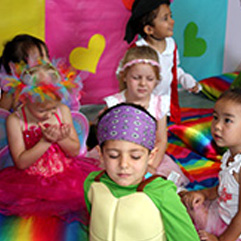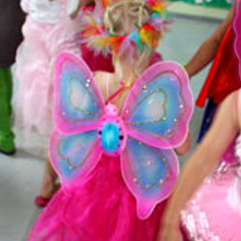 On the Day of your Party:
On the day of your party, our Beautiful Fairy, Princess Mermaid, Pirate or themed Party Host of your choice will be waiting for the guests to arrive including the special Birthday child who will be seated on our Magical, Deluxe Golden Throne. After a special name crowning ceremony and lots of Fairy Wishes Dust children will be entertained with an array of Exciting themed Party Games including Musical Toadstools, Limbo, Dancing Ribbons, Party Dress Ups, Dancing Competitions and other fun activities utilising our Amazing Disco P/A System, Microphone and flashing party lights (included in all our party packages).
Then its time to be seated for a scrumptious feast including Fairy Bread, Frankfurts, sausage rolls, Sandwiches, chips, water, cordial and other yummy healthy food options organised by your exclusive party planner that co-ordinates everything with you prior to your party.
After the banquet is finished, children will be transformed into their favourite Fairy, Princess, Tiger, Super hero or Pirate of their choice with our High Quality Professional Face Painting guaranteed to delight children of all ages. Then it's time for balloon animals, craft session (optional) and singing a very Big Happy Birthday to the Birthday child around our beautifully decorated Cake table which is perfect for taking those magical photos to remember your child's special day.
Before the fun and excitement is over, there will be more games and activities conducted by our professional party host and a great time for any special requests.  Then its time for one last celebration with lots more fairy Wishes dust, Bubbles and a great big cheer with the birthday child  receiving a special commemorative Certificate.
Our Exclusive party venue aims to take the stress out of party planning with everything carefully planned and co-ordinated so all you have to do is sit back, relax and enjoy your child special day.
Our Beautiful Party Venue Packages includes the Following:
Exclusive Use of Our Beautifully themed, Enchanted Garden, Decorated Party Room for 1.5 hours
Professional Childrens Party Host dressed as your favourite Fairy, Princess, Mermaid or Character of your choice that co-ordinates and runs the party from start to finish
Special gift and Certificate given to the birthday child
Fun Games and themed activities including Limbo, Musical Toadstools, Dancing Ribbons, Pom Pom Dancing, Hunt the Wishing Wand, Theatrical Story Telling and more
Professional Face Painting for all party guests
Balloon Animals for all the party guests
Disco or themed party Dancing with our High Quality Disco P/A System, Microphone for Karaoke and Flashing Disco Lights
Party Food for each child attending including Sausage Rolls, Frankfurts, Chips, Lollies. Your choice of one of the following including Hot Pop Corn, Fairy Bread or Jelly Cups.
Jugs of Cordial and Water
Themed Printable invitations
Cake cutting Ceremony and Photo Opportunities with our Beautiful Themed Party Host
Kiosk in the waiting room for families wanting to purchase Drinks, Snacks and Treats whilst they wait.
Hard Working, Friendly Team on site that ensures everything runs smoothly on the day and that Children and families have the most memorably party ever.
Our Price for all of the above at our Childrens Party Venue is as follows:
Price: $350.00 inc gst for the First 10 Children
Extra = $20.00 inc gst Per Extra Child attending
We also have a wide range of optional Extras including lolly bags, Snack Pack Boxes, Parent Platters and Additional Craft Activities.
Looking to add a touch of magic and sparkle to your next kids party? Then Contact our team of Experienced Childrens Entertainers today at our leading Party Rooms for Hire.